Terms of Service
By using Simple File Exchange, you agree that you've read these terms, understand them and agree to them.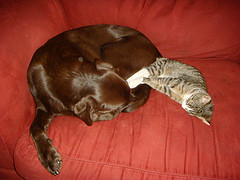 InetSolution pets are watching you. Well not in this photo, but they're out there watching. Also they're not at fault – see 8.
You must have an IQ above 120 to use Simple File Exchange – unless you have some kind of valid, mental handicap.
You may not send porn through Simple File Exchange, especially the kind that's illegal in the United States. You know the kind we're talking about. We have your "information."
You may not send illegally copied files (copyrighted material), such as music, movies or software through Simple File Exchange.
You understand and acknowledge that no passwords or other authentication is necessary to download files sent or received through Simple File Exchange.
You use Simple File Exchange at your own risk. Only a complete idiot (see #1) would send anything sensitive through Simple File Exchange, so that's why sending sensitive data through Simple File Exchange is prohibited. Besides, that's what SecureFileExchange™ is for.
By using Simple File Exchange, you agree that the UI design is incredible.
You agree that the team who built Simple File Exchange is worthy of praise and adoration for providing this service to you free of charge. Appreciation is best shown via chocolate mice and penguins to 7765 Auburn Rd, Suite 200, Utica, Michigan 48317.
You acknowledge that Simple File Exchange is a free service. InetSolution, nor any of its officers, agents, employees, contractors, Twitter followers, Facebook fans, clients, groupies or pets provide any guarantees or warranties of any kind as to the performance or suitability for any purpose.
You will hold InetSolution harmless and indemnify InetSolution against any and all claims or damages that could arise as a result of your use of Simple File Exchange.